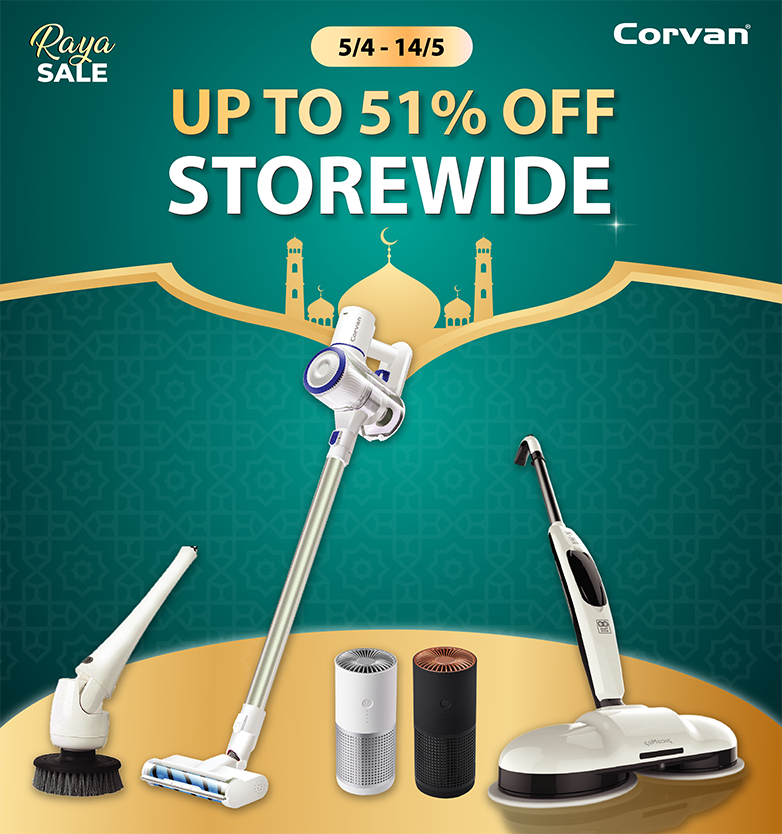 FREE SHIPPING MIN. SPEND RM400*
0% INTEREST INSTALLMENT PLAN*
STRONG PRE & POST-SALES SUPPORT
---
Keep your home clean with Corvan's range of cleaning appliances
Lorem ipsum dolor sit amet, consectetur adipiscing elit, sed do eiusmod tempor incididunt ut labore et dolore magna aliqua. Ut enim ad minim veniamText
---
WHAT OUR USERS SAY ABOUT US
My daughter had eczema & skin sentivity since 4. keeping her bed clean is super important. I have tried many vacuums...none works as good as [Corvan Cordless Vacuum]. My daughter now vacuums her own bed at least once a week.

I love love love [Corvan picaMop]! …I am heavily pregnant now and I manage to finish up mopping the whole house of 2400sqft area within 20mins without back pain…

[Corvan Power Scrub] makes cleaning of toilet and glasses... easy. Cleaning power is great! I could scrub the floor without hurting my back…
Cleaning is much easier now especially with a 2 YO at home. Messy playpen is not a problem anymore. [Corvan Cordless Vacuum] Collected so much dust and dirt after just the first use.
Using the personal air purifier everyday, feeling the air is better than before. allergies are better…

After buying this item my life changed 360 degree. This cordless vacuum able to sucked all the dust in my house…also sucked all my life problem…Wish to have more of your product in the future 🤨

---